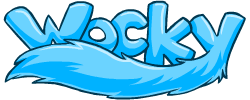 The Wocky (WOCK-ee) are one of many different species that exist in Neopia. As a general rule Wockies are bold and adventurous. They are often the first to explore new territories and dare to do things that other species would rather not.
Site description:"Wockies are brave, adventurous Neopians. They love to explore new territory and discover hidden treasures." [1]
Appearance
Wockies look like Persian Cats with uncurled squirrel tails with a neck ruff.
They come in 56 different styles. Those styles are the following :
Expand/Collapse Gallery
begin
Expand/Collapse Gallery

end
Famous Wockies
Related
Gallery
External references