Whirlpool
is a Puzzle game from
Maraqua
on
Neopets
.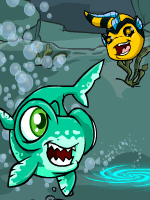 Site Description
" As any Maraquan could tell you, whirlpools can cause all sorts of damage on the ocean floor. Now, though, those swirling funnels of water have been put to good use! A bunch of Maraquan Petpets have wandered too far from their homes, and they need your help to find their way back. Use the whirlpools to direct those swimming strays back to the comfort and safety of their shell. Keep in mind, however, that whirlpools can be unpredictable – some can be moved while others cannot. "
Trivia
This game has an NP ratio of 0.01
This game has an average difficulty of 4.2
This game has a medal for 1 million plays
Gallery
Ad blocker interference detected!
Wikia is a free-to-use site that makes money from advertising. We have a modified experience for viewers using ad blockers

Wikia is not accessible if you've made further modifications. Remove the custom ad blocker rule(s) and the page will load as expected.