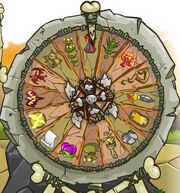 The Wheel of Monotony is a Luck&Chance game. It is one of the six wheels of Neopia. It only costs 150 NP to play and can be played once a day. It has prizes similar to the most expensive wheel, but it takes ages to come to a stop.
The Wheel of Monotony can run for several hours, even up to 24 full hours. However, an avatar can be received from it, and you even have a chance at getting items like a Tyrannian Paint Brush. It is up to the user to decide whether the wheel is worth the wait, and it is suggested that it be kept open in another tab on mute so that the noise does not become a nuisance.
Prizes
A visit to the volcano.
A regular codestone.
A random Tyrannian weapon.
Wheel of Monotony avatar.
Tyrannian Petpet Paint Brush.
A ticket for The Neopian Lottery.
Your active pet loses half their health.
You win 5,000 NP!
A Tyrannian food item.
A random Monotony item.
One of your pets' abilities is raised by one level.
A red codestone.
A visit to the Lair of the Beast.
A Tyrannian Petpet.
You win 20,000 NP!
Wheels of Neopets
Ad blocker interference detected!
Wikia is a free-to-use site that makes money from advertising. We have a modified experience for viewers using ad blockers

Wikia is not accessible if you've made further modifications. Remove the custom ad blocker rule(s) and the page will load as expected.