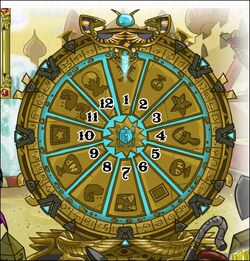 The Wheel of Extravagance is a hidden wheel that can be found in Qasala. At 100,000 NP per spin, it is an extremely expensive luck/chance game, and you can only spin it once a day. A very decorated red Tonu manages this wheel. Some of the prizes on this wheel may not be worth the 100,000 NP, especially the NP prizes where you either receive less than 100,000 or gain only a 1 NP profit.
How to find it
Go to Qasala and look in the area of the Mystical Surroundings shop, like in the picture below. Click where the red arrow is pointing in the picture.

Prizes

X - Nothing.
Small NP bag - 25,000 NP.
Star - A random Nerkmid, Secret Laboratory Map piece, or Job Coupon.
Paint Brush - A random Paintbrush.
Medium NP bag - 50,000 NP.
Square - Wheel of Extravagance avatar.
Picture - Wheel of Extravagance Background wearable.
Flexing arm - +5 on one of your active pet's stats (HP, Strength, Defence, Move, or Intelligence).
Large NP bag - 100,001 NP.
Star stamp - Wheel of Extravagance Stamp.
Two flexing arms - +10 on one of your active pet's stats, or a 10% increase if your pet's stats are low to begin with.
Scorchstone silhouette - A random Rarity 100 item.
Other wheels of Neopia
External Links
Ad blocker interference detected!
Wikia is a free-to-use site that makes money from advertising. We have a modified experience for viewers using ad blockers

Wikia is not accessible if you've made further modifications. Remove the custom ad blocker rule(s) and the page will load as expected.