Warf Wharf
is a sub sector of
Krawk Island
in
Neopia
on
Neopets
.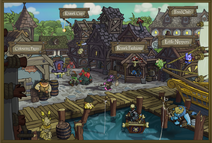 Site Description
" Warf Wharf is the bustling hub of Krawk Island, the destination of nearly every ship that sets sail for its shores. For this reason it is the epicenter of trade on the island -- an ideal location for buyers to find a bargain and sellers to make a few quick dubloons with no questions asked. "
Sub Locations
Games
Other
Colouring Pages
Krawk Fashions
Ad blocker interference detected!
Wikia is a free-to-use site that makes money from advertising. We have a modified experience for viewers using ad blockers

Wikia is not accessible if you've made further modifications. Remove the custom ad blocker rule(s) and the page will load as expected.