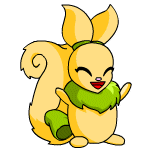 The Usul is a squirrel-like neopet that was released on November 15, 1999 as one of the original Neopets on the site. Usuls are loyal and friendly pets who prefer to live in trees. During cold weather, Usuls are the first to share their food with friends. The Usul is the only neopet that is able to be painted Usuki.
They come in the standard, basic colors: red, yellow, green and blue. Other styles a Usul can have include
Baby, Blue, Brown, Camouflage, Checkered,  Chocolate, Christmas, Cloud, Clay, Custard, Darigan, Desert, Dimensional, Disco, Electric, Eventide, Faerie, Fire, Ghost, Gold, Green, Grey, Glowing, Halloween, Ice, Island, Jelly,Magma, Mutant, Orange, Pink, Plushie, Purple, Rainbow, Red, Robot, Royal, Relic, Silver, Skunk, Snot,  Snow, Speckled, Spotted, Starry, Strawberry, Striped, Tyrannian, Usuki, White, Wraith, Yellow
Famous Usuls
Ad blocker interference detected!
Wikia is a free-to-use site that makes money from advertising. We have a modified experience for viewers using ad blockers

Wikia is not accessible if you've made further modifications. Remove the custom ad blocker rule(s) and the page will load as expected.