Usuki Frenzy is an Action game from Neopia Central on Neopets. Usuki Frenzy is a game released on March 25, 2002. Young Sally is about to go on vacation with her family and she is given two minutes to pack her bags. She still has to get her favourite Usuki sets, which are scattered around the house. You have to collect ten of the items on your list, after this, you will complete the game.
Usuki Frenzy was replaced with a new version of the same game on August 21, 2007, with new protagonist, Lucie the Cybunny. (and the time had 1 extra minute.)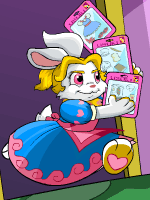 Site Description
" A young Cybunny named Lucie was about to leave for a vacation with her parents when she realised that she'd forgotten to pack a few crucial items - her Usuki doll sets! How will she spend those long hours of travel without them? Lucie's parents have given her three minutes to run back into the house and grab all of her favourite Usuki doll sets. Can you help Lucie collect everything she needs before time is up? "
Trivia
This game has an NP ratio of 0.88
This game has an average difficulty of 4.3
Gallery
Ad blocker interference detected!
Wikia is a free-to-use site that makes money from advertising. We have a modified experience for viewers using ad blockers

Wikia is not accessible if you've made further modifications. Remove the custom ad blocker rule(s) and the page will load as expected.