Tyrannian Mini Golf
is a Puzzle/Sports game from
Tyrannia
on
Neopets
.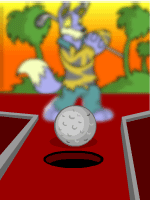 Site Description
" Mini Golf takes on a whole new meaning in the hazardous, prehistoric land of Tyrannia. Choose from three different characters, and three different types of golf ball, and try and complete all 9 holes in the least number of putts. To play, first choose a character. Some hit the balls farther than others, so experiment and find out which one suits you best. Next, choose a ball, each ball has a different weight. Use your mouse to control the angle and power for your shot (the bigger the oval the farther the ball will travel). Remember to avoid the lava and sand pits, they will slow your ball down. Try and finish each hole in par or less to earn more points! "
Trivia
This game has an NP ratio of 1.23
This game has an avergae difficulty of 3.9
This game has a medal for 10 million plays
Gallery
Ad blocker interference detected!
Wikia is a free-to-use site that makes money from advertising. We have a modified experience for viewers using ad blockers

Wikia is not accessible if you've made further modifications. Remove the custom ad blocker rule(s) and the page will load as expected.