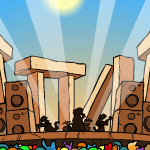 The Tyrannian Concert Hall, a Stonehenge-like construction, is located on the Plateau in Tyrannia, where it hosts the performances of the bands of Neopia. The Tyrannian Concert Hall currently offers performances of fifteen different bands. Each band has one or more standard day(s) to perform on. When a new band is added, a performance day is taken from another band and given to the new band.
Ad blocker interference detected!
Wikia is a free-to-use site that makes money from advertising. We have a modified experience for viewers using ad blockers

Wikia is not accessible if you've made further modifications. Remove the custom ad blocker rule(s) and the page will load as expected.