The
Turmaculus
is the king of the
petpets
. He lives in
Meridell
. He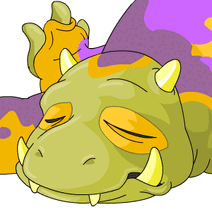 sleeps most of the time. If you have a petpet, it can go try to wake him. Sometimes he gives out nice prizes, but watch out! Sometimes he's cranky. In a
really
bad mood, he might even try to eat the petpet who wakes him!
Avatars
If the Turmaculus eats your Petpet you will receive the Turmaculus Avatar.
Items
Turmaculus Stamp
Turmaculus Action Figure
Turmaculus Pinata
Turmaculus (TCG)
You can also get Turmaculus as a Battledome Challenger. He starts with 300 HP.
Gallery
External reference
To visit the Turmaculus.
Picovamde maintains a calendar that estimates the Turmaculus times for each day.