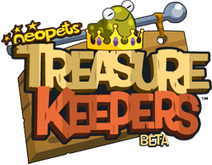 Treasure Keepers was a Facebook application from Meteor Games. It opened for beta testing August 2011 and closed December 14, 2011 due to money losses, decrease of users, and the laying off 90% of its staff [1].
Starting on December 16, 2011, Treasure Keepers players received a thank you code from the Neopets Team via email. The code for it is NTKTHANKS and can be used by any Neopets user. The pack of items given once it's redeemed at the Grundo Warehouse contains:
10,000 Neopoints
Noil
Ten Dubloon Coin
Heavy Round Shield
Green Slorg Plushie
Plushie Petpet Paint Brush
Babaa Pillow
Caring For Your Mazzew
Cheese Shop Background
Sparkle Potion
Brown Winter Scarf
The Way to Adventure Sign Post
(this code is no longer valid.)
Locations
Characters
Leapfoot
Halgir
Apprentice Ziki
Nurse Gladys
Brianna
Dalton

Kara
Firruk the Squaddie
Vincent
Sentry Volander
Chef Quentin
Mina

Taranell
Pansy
Tina
Gravella
Rowley
Michelle
Tiffle
Gallery
References
Ad blocker interference detected!
Wikia is a free-to-use site that makes money from advertising. We have a modified experience for viewers using ad blockers

Wikia is not accessible if you've made further modifications. Remove the custom ad blocker rule(s) and the page will load as expected.