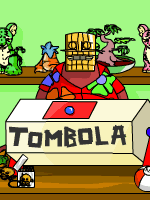 A
Tombola
is a type of lottery. According to the
Wiktionary
, the tickets are drawn from a drum. You'll win 2 prizes and Neopoints if the ticket ends with a 0, 2, or 5. But even if your ticket doesn't end in those numbers there's still a chance that you'll get a cheap prize, and even a smaller change of also recieving some Neopoints. When the
Tiki Tack Man
runs out of prizes to give away, Neopians are required to donate Neopoints before the game can begin again.
You can visit the Neopets tombola once a day. It gives out prizes and neopoints. Some times the prizes may include bottled faeries and codestones; however, most of the time the prizes are items that can be bought at Tiki Tack.
Tombola costs nothing to play, but you can only play once a day. It's simply a game of chance, thus no hints can be given but to visit every day.
External Links
Ad blocker interference detected!
Wikia is a free-to-use site that makes money from advertising. We have a modified experience for viewers using ad blockers

Wikia is not accessible if you've made further modifications. Remove the custom ad blocker rule(s) and the page will load as expected.