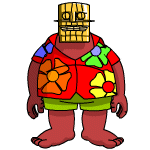 The
Tiki Tack Man
runs the
Tombola
game and the
Tiki Tack
shop. The Tiki Tack Man appears to be human, and one of the few on the site. The Neopets Team did at one point replace human characters such as
Edna
and the
Island Mystic
with Neopets, but left the Tiki Tack Man as he is. He is never seen without his mask. You can also get him as a battledome challenger.
Ad blocker interference detected!
Wikia is a free-to-use site that makes money from advertising. We have a modified experience for viewers using ad blockers

Wikia is not accessible if you've made further modifications. Remove the custom ad blocker rule(s) and the page will load as expected.