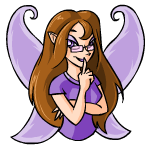 The Library Faerie (or Book Faerie in the early years) is the Faerie responsible for looking over the vast library of Faerieland. She also is in charge of the Faerie Crossword.
Items
Library Faerie Stained Glass Window
Library Faerie Stamp
Library Tales
External Links
Learn how to draw the Library Faerie here
Gallery
Ad blocker interference detected!
Wikia is a free-to-use site that makes money from advertising. We have a modified experience for viewers using ad blockers

Wikia is not accessible if you've made further modifications. Remove the custom ad blocker rule(s) and the page will load as expected.