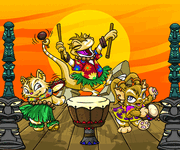 The Hikalakas are a tropical band possibly from Mystery Island. There are three members. A Techo, and Acara, and a Wocky. They play island music. You could get some items from them like maracas, but mostly maracas.
Ticket
Price: 1,250 nps.
Ticket Style/Color: Red, orange, yellow, gold, black.
Items
The Hikalakas Bottles Of Sand
The Hikalakas Glass
The Hikalakas Maracas
The Hikalakas Record
The Hikalakas Shirt
The Hikalakas Lamp
The Hikalakas Totem
The Hikalakas Pillow
Dates they played since the creation of this page
June 24, 2009 and were followed by ???
August 24th, 2012
Ad blocker interference detected!
Wikia is a free-to-use site that makes money from advertising. We have a modified experience for viewers using ad blockers

Wikia is not accessible if you've made further modifications. Remove the custom ad blocker rule(s) and the page will load as expected.