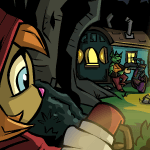 The Tale of Woe is a plot that took place in the Haunted Woods and told the story of Neovia. It began on October 2 2006, and finished on November 20 2006, with the prizes released in March 2007. The plot followed the travels of Gilly, who first appeared as the star of The Castle of Eliv Thade.
It was up to Neopians to brave the ghosts, werelupes and zombies, to discover what happened to the residents of Neovia, and discover the curse placed on them. It revolved around the Tale of Woe Comic.
Avatar
If you participated in this plot visit Sophies Shack to recieve the Tale of Woe - Krawley Avatar.
If you participated in this plot you would be able to use the Tale of Woe sidebar it looks like this and this. It uses icons such as these.
There are many different layout rotations for this layout.
This one, or this, maybe this one, or this, starting to get scary, scarier, and wondering what happened, this one, this one, and finally this one
Ad blocker interference detected!
Wikia is a free-to-use site that makes money from advertising. We have a modified experience for viewers using ad blockers

Wikia is not accessible if you've made further modifications. Remove the custom ad blocker rule(s) and the page will load as expected.