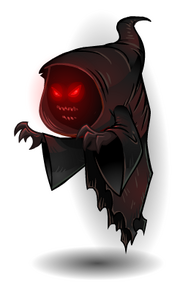 The
Swamp Ghoul
is a mysterious cloaked creature native to the swamps of Neopia that can track down pets and owners by the smell of their loneliness. When the Swamp Ghoul appears, the air is filled with a cold chill and the stench of evil.
Trivia
The Swamp Ghoul is a former Gallery of Evil character, but was later removed on an unknown date.
Gallery
Ad blocker interference detected!
Wikia is a free-to-use site that makes money from advertising. We have a modified experience for viewers using ad blockers

Wikia is not accessible if you've made further modifications. Remove the custom ad blocker rule(s) and the page will load as expected.