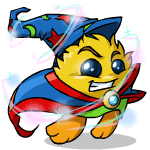 The
Super Shop Wizard
is one of the features available to
Premium
members.
Upsides
Rather than having the shop wizard just search one section of the market at a time, the super shop wizard checks the entire market guaranteeing that you're definitely getting the lowest prices within the market, helping you to save on Neopoints by using him, especially if the item in question has a variable price range.
Downsides
The SSW does tire very easily, and will often make you wait until the hour is up until you can use him again. He will say something like;
Whoa there, too many searches
I am too busy right now, please come back in about 40 minutes and I can help you out.
If you get banned at 3:48pm NST, he will tell you to wait about 20 minutes, you actually only need to wait until 4:00pm NST. So make sure you keep an eye on the time! You can use the regular shop wizard if you are SSW banned,
Another downside is that the SSW will not search for certain items. You can not search for; Transmogrification Potions, PetPet Paintbrushes, Regular Paintbrushes, Nerkmids, and laboratory map pieces.
Ad blocker interference detected!
Wikia is a free-to-use site that makes money from advertising. We have a modified experience for viewers using ad blockers

Wikia is not accessible if you've made further modifications. Remove the custom ad blocker rule(s) and the page will load as expected.