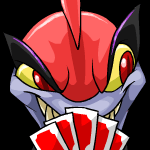 The self-appointed, undisputed ruler of
cheat!
. When his red eyes are staring at you, you can just feel them scanning your every movement... watching every move in your face. If you cheat, he will know, there is no doubt about that. Spectre is a Neopian millionaire, and only ventures out of his mansion when inexperienced players are up for a fleecing.
Ad blocker interference detected!
Wikia is a free-to-use site that makes money from advertising. We have a modified experience for viewers using ad blockers

Wikia is not accessible if you've made further modifications. Remove the custom ad blocker rule(s) and the page will load as expected.