Sinsi
is an
Ixi
who likes to create games and puzzles. She's from
Meridell
.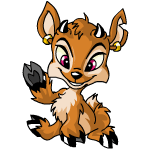 Game
In this puzzle game you goal is to change each symbol on the board to a goal symbol.  You can play here.
Avatar
Once you have started level 6 on Shapeshifter, go here, and you can recieve the Sinsi - Shapeshifter Avatar.
Items
Sinsis Puzzle Book
Sinsis Gauntlet
Sinsis Helm
Sinsis Grail
Sinsi: An Autobiography
Sinsis Crown
Sinsis Sword
Other
You can read more here.