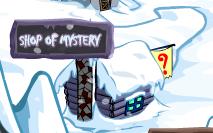 The Shop of Mystery is as it's name suggests, a shop where the Mystery Item you purchase is a mystery!
Location
The Shop of Mystery is located at the top of Terror Mountain. 
Items Available
' Bad Seed            'Balloons            Bit of             Black Osiris        Broken Blue       Broken Corn
                                                 Barbed Wire           Plate                  Fuzzle               Pyramid
Boween             Broken Uni       Corn Balls               Fir                 Fire Paw            Flipperbot
                              Hat
Ad blocker interference detected!
Wikia is a free-to-use site that makes money from advertising. We have a modified experience for viewers using ad blockers

Wikia is not accessible if you've made further modifications. Remove the custom ad blocker rule(s) and the page will load as expected.