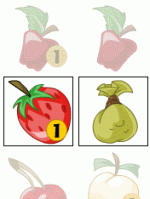 Fantastic prizes could be yours with every spin of these slots! Win NP, faeries, and treasure map pieces from this crazy slot machine. Also, if you complete the Volcano feature, you'll win an extra prize! It costs 5 Neopoints per play
How to Play
The object is to line up three or four icons that are the same in the win row (middle row). Depending on what you line up you win a certain amount of Neopoints or prizes. As you play every once and a while you are allowed to check boxes and hold some icons to have a better chance of winning the next round. You can also win when the numbers all light up on the bottom and the volacano erupts as shown in the screenshots below. The numbers light up as you get icons that have little numbers in the corners. They are added together and light up the corresponding numbers on the bottom of the game. These numbers are sometimes rolled over to the next turn and sometimes not.
List of Prizes
Three Cherries - 15 Neopoints
Three Strawberries - 30 Neopoints
Three Grapes - 60 Neopoints
Four Cherries - 75 Neopoints
Three Melons - 90 Neopoints
Three Apples - 120 Neopoints
Four Strawberries - 150 Neopoints
Three Peaches - 180 Neopoints
Three Bells - 240 Neopoints
Four Grapes - 300 Neopoints
Four Melons - 450 Neopoints
Four Apples - 600 Neopoints
Three Bags of Gold - 600 Neopoints
Four Peaches - 900 Neopoints
Four Bells - 1,200 Neopoints
Three Map Pieces - 1 Map Piece
Three Faeries - 1 Bottled Faerie
Four Map Pieces - 3 Map Pieces
Four Faeries - 6 Bottled Faeries
Four Bags of Gold - Jackpot
Ad blocker interference detected!
Wikia is a free-to-use site that makes money from advertising. We have a modified experience for viewers using ad blockers

Wikia is not accessible if you've made further modifications. Remove the custom ad blocker rule(s) and the page will load as expected.