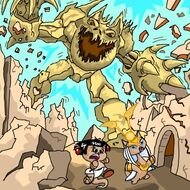 The
Rock Beast
was a monster of the
Lost Desert
and the boss challenger of the war during the Brucey B and the Lucky Coin plot, brought to life by the Staff of Alhasutek. If it hadn't been defeated,
Doctor Sloth's
plan to take over the world using its power would probably have succeeded.
Under the name Rock Monsters, many Rock Beasts attacked Shenkuu and the Lost Desert in search of magical amulets during the events of Neopets Puzzle Adventure. They were working for the shaman, Tura-Kepek. A notable Rock Beast is called Calciferus.
History
Brucey B and the Lucky Coin
The Rock Beast was animated by Dr. Sloth with the Staff of Alhasutek to put down the Sakhmet defence, though it was eventually defeated, leading to Sloth's departure.
Trivia
The Rock Beast was given a Gallery of Evil entry, but it was removed on July 10, 2001.
Gallery
Ad blocker interference detected!
Wikia is a free-to-use site that makes money from advertising. We have a modified experience for viewers using ad blockers

Wikia is not accessible if you've made further modifications. Remove the custom ad blocker rule(s) and the page will load as expected.