Reptillioritus is the disease caused by a bite from a venomous Reptillior. Neopets with Reptillioritus will have their skin very red and itchy. Your Neopet will refuse to eat and feel very tired all the time. If they do not get cured for 7 days, they will feel very painful.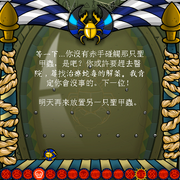 Another way to get Reptillioritus is through playing Qasalan Expellibox.
Cure
Rub Cactopus Cream on the affected area.
Or check out other ways to heal your pets.
Feed them poisonous jelly which will in turn give them Neomonia. Then you can buy medicinal soap and that is much cheaper and easier to find.
Related
Reference
Ad blocker interference detected!
Wikia is a free-to-use site that makes money from advertising. We have a modified experience for viewers using ad blockers

Wikia is not accessible if you've made further modifications. Remove the custom ad blocker rule(s) and the page will load as expected.