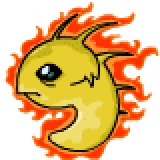 The Ramosan, is an Aquatic Petpet available here, or from the Shop Wizard for around 3,700 NP.
Ramosans are little friendly eels from the bottom of the ocean. When they get upset they can give a nasty shock!
This Petpet is also available in spotted, maractite, and purple and is associated with 2 items; "Ramosan (TCG)" and "Yellow Ramosan T-Shirt".
Ad blocker interference detected!
Wikia is a free-to-use site that makes money from advertising. We have a modified experience for viewers using ad blockers

Wikia is not accessible if you've made further modifications. Remove the custom ad blocker rule(s) and the page will load as expected.