Raiders of Maraqua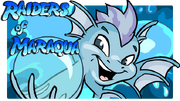 0.21 Points = 1 NP
Medium

Maraqua
External Links

High Score Page

N/A

Raiders of Maraqua
is a Puzzle game from
Maraqua
on
Neopets
.
Site Description
" Karpoh the Koi is an ambitious young neopet looking to impress his pirate bosses. He has volunteered to go down to the ruins of Maraqua to collect any treasure that he can find down there. How bad could it be? It's just a deserted old city, right? He only wonders why nobody has tried this before! "
Trivia
This game has a ribbon for 10 million plays
Avatar
Raider of Maraqua
Achieve a score of 800+ Points
Gallery
Ad blocker interference detected!
Wikia is a free-to-use site that makes money from advertising. We have a modified experience for viewers using ad blockers

Wikia is not accessible if you've made further modifications. Remove the custom ad blocker rule(s) and the page will load as expected.