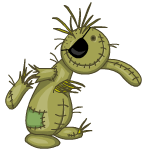 Very rarely, for short windows of time, users who challenge Punchbag Bob will enter a fight with his brother Punchbag Sid instead. Unlike Bob, Sid fights back and will do damage to your neopets. You can get an avatar for losing to him.
Ad blocker interference detected!
Wikia is a free-to-use site that makes money from advertising. We have a modified experience for viewers using ad blockers

Wikia is not accessible if you've made further modifications. Remove the custom ad blocker rule(s) and the page will load as expected.