Pick Your Own
costs 400NP, and allows you to pick your own berries from Meri Acre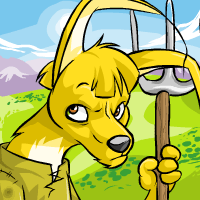 Farm. You use the red arrows to navigate around the farm searching for berries. Most items you pick up will be junk, but every now and then you will get a rare berry which you may be able to sell for a pretty profit.
You are only allowed to visit 20 areas of the farm (some may look the same) and you can click anywhere on the map to look for your item (including the sky or even the lake).
Items which can be gained from Pick Your Own:
Berries
Blue Bomberry
Eyeballberry
Jumbleberry
Conkerberry
Purple Felberry
Voidberry
Red Chiaberry
Super Juicy Berry
Sniddberry
Pusberry
Mortogberry
Dungberry

Tweezleberry
Nutritional Blockberry
Fishberry
Loveberry
Dorkleberry
Brown Broadberry
Unguberry
Aquaberry
Burritoberry
Spoogentberry
Orange Graspberry
Blandberry

Breenutberry
Acorberry
Autumnberry
Dulaberry
Umnoberry
Orfaberry
Meriberry
Strebbleberry
Variberry
Unknown
Benyeroberry
Yamboberries
Junk Items
Bit of Barbed Wire
Pile of Dung
Piece of Wool
Half-eaten Berry
Old Boot
Rotten Berry
Others
On St Patricks Day (March 17th) the following items can be found;
3 Leaf Clover
4 Leaf Clover
12 Leaf Clover
Avatar
If you leave the Meri Acres Farm with 6 non-dung items, you will receive the Pick Your Own Avatar. You can click on the dung in your basket to discard it.
You can play
here
.