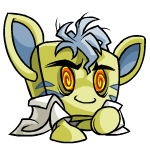 There is also a petpet lab ray, owned by the crazed scorchio's petpet Kookith. The pieces cost between 2m-3m nps. Unfortunately, you need to complete the
Secret Laboratory Map
set
BEFORE
you can go to the Petpet Lab.
Neopets does warn against it's use however, with these rules:
The Petpet Protection League frowns upon experimentation on and zapping of Petpets. Once your Petpet is zapped, it will automatically be disqualified and will be unable to win the PPL award. They are very strict about this.
Zapped Petpets appear to be immune to any form of Petpet Paint Brush. The folks at the Petpet Puddle are looking into this, but it doesn't look like they'll have a solution any time soon.
It has been noted that when removing a Petpet that has been zapped, it reverts back to its original form. No one knows why that is... except the Kookith. But he's not telling and really couldn't if he wanted to.
What the Petpet Lab can do
The Petpet Lab Ray can:
Change your petpet's colour
Change your petpet's species
Increase your petpet's level
Decrease your petpet's level
Change your petpet's name
Turn your petpet into a Pile of Soot
Make your petpet disappear
Do nothing at all
Exclusive Colors
The Lab has some exclusive colors, that can ONLY be obtained through zapping your petpet.
Species such as the Chiruck and the Graffle are also unique to the ray. You cannot purchase these petpets, because once removed from a pet, they revert back to their original species and colour.
Avatars
When your petpet gets zapped into a Pile of Soot, you have a chance to obtain the Petpet Laboratory Avatar.
Ad blocker interference detected!
Wikia is a free-to-use site that makes money from advertising. We have a modified experience for viewers using ad blockers

Wikia is not accessible if you've made further modifications. Remove the custom ad blocker rule(s) and the page will load as expected.