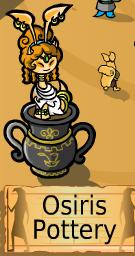 Osiri's Pottery is a shop in Sakhmet owned by Lady Osiri, a desert Aisha. The shop sells earthenware from r55 to r99. It is the only pottery shop in Neopia. The shop opened in Y3 (2001) and was originally located in the Lost Desert, and moved to Sakhmet after the Lost Desert Plot.
Related Articles
External Links
Ad blocker interference detected!
Wikia is a free-to-use site that makes money from advertising. We have a modified experience for viewers using ad blockers

Wikia is not accessible if you've made further modifications. Remove the custom ad blocker rule(s) and the page will load as expected.