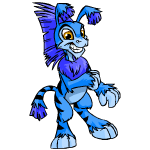 Ogrin (OH-grin) are neopets. Ogrins are very good companions. They tend to be a bit shy when meeting someone new, but once they feel more comfortable, they can talk for hours. They love to take long walks outdoors, studying and observing just about everything. In general, Ogrin aren't very interested in battling, but they shouldn't be underestimated! Never to get in the way of a charging Ogrin They are not limited edition, meaning you can create one any day of the year.
Site description: "Ogrin are extremely intelligent Neopets, though they are known to be somewhat shy in social situations. They are very interesting and inquisitive companions, whose interests include studying nature."[1]
Available Colours
Below are all possible colours for Ogrin. Hit "Expand" to see every one!
Unconverted Pets
(Remove section if none)

Some colours of Ogrin were exempt from auto-conversion when Neopets updated the pet art. Click "Expand" to see all possible unconverted Ogrin.
Famous Ogrins
Links
↑ Pet description http://www.neopets.com/petinfo.phtml?type=Ogrin&r=44
Ad blocker interference detected!
Wikia is a free-to-use site that makes money from advertising. We have a modified experience for viewers using ad blockers

Wikia is not accessible if you've made further modifications. Remove the custom ad blocker rule(s) and the page will load as expected.