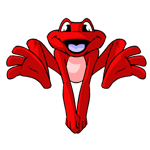 Nimmo (NIM-oh) are neopets. Nimmos can be found all over Neopia, though they prefer environments near lots of water. They are strong swimmers and quick thinkers, traditionally prizing intelligence as an important quality. The Nimmo has a strong sense of spiritual harmony and balance, and likes to feel peaceful and at one with his or her surroundings. They also have a surprising affinity for martial arts.
Site description: "Nimmos are very spiritual beings. They value peace and friendship above all else. If you are looking for a loyal, intelligent friend then a Nimmo is the Neopet for you."[1]
Available Colours
Below are all possible colours for Nimmo. Hit "Expand" to see every one!
Unconverted Pets
(Remove section if none)

Some colours of Nimmo were exempt from auto-conversion when Neopets updated the pet art. Click "Expand" to see all possible unconverted Nimmo.
Previous Versions
Nimmos were released at the launch of Neopets 15 November, 1999.
Famous Nimmos
Links
↑ Pet description http://www.neopets.com/petinfo.phtml?type=Nimmo&r=579