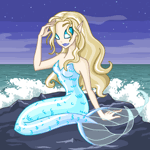 Nereid the Water Faerie is a collectible card. It features a Water Faerie, Nereid, stitting by the ocean. There is also a TCG card, Nereid the Water Faerie. It seems the default avatar Water Faerie is a part of, or based off of, the collectible card.
| Name: | Nereid the Water Faerie |
| --- | --- |
| Weight: | 1 lb. |
| Rarity: | 30 |
| Estimated Value (approx:) | 693 NP |
| Shop Wiz Value (approx:) | 2,000 NP |
| Description: | "Nereid is an elusive faerie who prefers to remain hidden. If you go sailing off the cost of Mystery Island you can sometimes hear her singing at night." |
Ad blocker interference detected!
Wikia is a free-to-use site that makes money from advertising. We have a modified experience for viewers using ad blockers

Wikia is not accessible if you've made further modifications. Remove the custom ad blocker rule(s) and the page will load as expected.