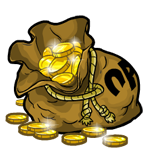 Neopoints, or NP are the virtual currency in the NeoPets world. There are many ways to earn NP. There are also many ways to use or spend them. Neopoints can be bought online from third party sites, however this is against Neopets' terms and conditions. The maximum number of Neopoints anyone can have is 2,147,483,647. The Neopoints can also be a Random Event which means you may not receive this every day, or even at all.
You can buy millions of Neopoints from www.Neopoints.me .
There is a second currency which you can buy with real money. See Neocash for more information.