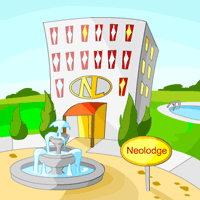 The Neolodge is a system of hotels throughout Neopia where your pets can spend the night when you're away. By leaving your pets at the Neolodge, they will be instantly 'bloated' by the food upon arrival and also will be cared for during their stay. You can book rooms from one night to twenty-eight nights in a row if you wish, depending on how long you will be gone. You can also leave your pets in there if you do not want to feed them every day. It is considered one of the cheapest and easiest ways to feed your pets.
Ad blocker interference detected!
Wikia is a free-to-use site that makes money from advertising. We have a modified experience for viewers using ad blockers

Wikia is not accessible if you've made further modifications. Remove the custom ad blocker rule(s) and the page will load as expected.