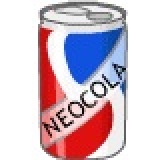 Neocola is the leading soft drink company in Neopia, and their Neocola sodas are edible items that can be given to your neopet.
Varieties
Regular Neocola
Diet Neocola
Caffeine Free Neocola (regular Neocola w/o caffeine)
Apple Neocola
Peach Neocola
Grapefruit Neocola
Raspberry Neocola
Trivia
Neocola is similar to Pepsi or Coca Cola in real life, whereas Achyfi is similar to Fanta in real life
On Kreludor, there is a Neocola machine that takes Neocola tokens which typically go for around 3k NP
The average price of Neocola is around 100 NP
Gallery
Ad blocker interference detected!
Wikia is a free-to-use site that makes money from advertising. We have a modified experience for viewers using ad blockers

Wikia is not accessible if you've made further modifications. Remove the custom ad blocker rule(s) and the page will load as expected.