NeoQuest II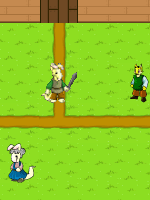 External Links



NeoQuest II
is a long adventure game. It is played in HTML, so you can play it even if you do not have a Flash plugin. There is no limit to plays per day, but you won't be playing it four times a day - the game can take weeks to finish. Unlike
NeoQuest I
, NeoQuest II allows a party that will eventually grow to four characters.
Maximum Neopoint gains per play:
21400 for beating required bosses
1100 for beating optional bosses (Miner Foreman, Meurka and Hubrid Nox)
10000 for beat Normal
30000 for beating Hard
50000 for beating Insane
Avatars
There are three different avatars you can get from Neoquest II:
You can get the weakling av by losing to a plains Lupe
You can get an avatar for defeating a bionic cybunny
You can get the devilpuss av by beating the Devilpuss in chapter 5
External Links
Ad blocker interference detected!
Wikia is a free-to-use site that makes money from advertising. We have a modified experience for viewers using ad blockers

Wikia is not accessible if you've made further modifications. Remove the custom ad blocker rule(s) and the page will load as expected.