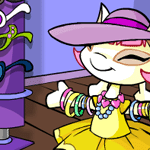 The NC Mall is a place containing several shops, all of which have items only buyable  with Neocash. There are several ways to obtain it. For example, you can purchase Neocash either through paypal, or by buying a Neocash Card (only available in the US and Canada). 100 Neocash equals 1 dollar. New players can go to the NC Mall where they receive 150 free Neocash upon clicking the link at the top of the NC Mall. There is also a daily named Qasalan Expellibox, which has a (very small) chance of giving out 150 Neocash. Sometimes, large events like the Daily Dare have Neocash as prize.
You can mostly find Wearables at the NC Mall. However, you can also find other items too such as Smiley Snacks which make your pet instantly happy, Neoboard Pens, Game Tickets and Mystery Capsules. Most NC Wearables tend to be animated.
The NC Mall uses the Neocash (NC) game currency.
 External Links
Ad blocker interference detected!
Wikia is a free-to-use site that makes money from advertising. We have a modified experience for viewers using ad blockers

Wikia is not accessible if you've made further modifications. Remove the custom ad blocker rule(s) and the page will load as expected.