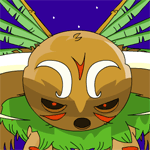 Mumbo Pango is the Neopets god of death and coconuts. He rules over the Mystery Island Natives and is sometimes referred to as Pango Pango. He was the creature behind the old Sacrificers event, and is also featured in the Kitchen Quests as requesting continuous food from the Underwater Chef.
Gallery
Ad blocker interference detected!
Wikia is a free-to-use site that makes money from advertising. We have a modified experience for viewers using ad blockers

Wikia is not accessible if you've made further modifications. Remove the custom ad blocker rule(s) and the page will load as expected.