The
Money Tree
is a place on
Neopets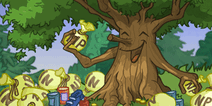 where people donate their Neopoints and Items. The more items you take per day, the less chance of you picking something up.
Donating items can be done by selecting the 'Donate' option at the item drop-down menu. However, wearable items cannot be donated to the Money Tree. Instead, when selecting 'Donate', they are sent to the Second-Hand Shoppe. Neopoints can also be donated, but to do this, it is required to go to the Money Tree page itself. Also, it's impossible to donate less than 6 Neopoints to the tree.
Since the release of the NC Upcycle Fortune Cookie, users are able to donate Neocash items to the tree in exchange for Neocash and items.
Donators
In Neopia, there are five different famous Neopians that come to donate at the money tree. They are: Balthazar, The Health Frog, The Lupe Pack, and Scamander in Chief.
Balthazar - Every Wednesday, at 7 A.M. Neopian Standard Time (NST), you may be able to grab something worthwhile. At this time, Balthazar donates a few bottled faeries to The Money Tree, each worth approximately 3,000 - 4,000 NP!
Health Frog - At 7 A.M. NST every day, the Health Frog will come to the money tree and provides the vegetarian Neopets by donating anywhere from ten to two hundred different fruits and vegetables.
The Lupe Pack - Every Sunday at 5:50 P.M. NST the Lupe Pack will come and share their goodies with you - by donating them. These are generally the white and dark chocolate Chias.
Pango Pango - At 10:45 AM and 10:45 PM, Pango Pango, a Mystery Island chief coconut might donate hundreds of exotic fruits to The Money Tree.
Scamander in Chef - Finally the last donator is Scamander in Chef. The particulary of this donator is that the hundreds of Scamander he donates are very hard to catch!
Gallery
Ad blocker interference detected!
Wikia is a free-to-use site that makes money from advertising. We have a modified experience for viewers using ad blockers

Wikia is not accessible if you've made further modifications. Remove the custom ad blocker rule(s) and the page will load as expected.