Correct Pronounciation:
mew-ka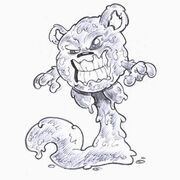 Meuka is a villain on Neopets made entirely from mucus. His origins are completly unknown, although there are many theories.
History

Gallery of Evil Description
Formed entirely from mucus, the origins of this mutated Meerca are unknown. Maybe a paint brush gone wrong, or perhaps a freak created by one of Sloth's hideous experiments... we will never know.
Meuka can be seen slithering around the nastier regions of the Haunted Woods eating, well.. devouring everything in his path. His sharp jaws can cut through the vegetation like butter... and the same also goes for young Neopets who wander astray. Avoid!
Meuka is featured in the game Snot Splatter.
Ad blocker interference detected!
Wikia is a free-to-use site that makes money from advertising. We have a modified experience for viewers using ad blockers

Wikia is not accessible if you've made further modifications. Remove the custom ad blocker rule(s) and the page will load as expected.