Meridell is a location in Neopia on Neopets. Ixi and Draik are native to this region.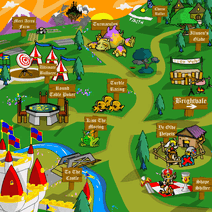 Site Description
" A medieval land from the past, Meridell was discovered by a group of unlikely adventurers. Visit Meridell for great games (mostly involving vegetables), faerie quests, bullseye, Mortog kissing, puzzles and much more! "
Sub Locations
Ye Olde Petpets
Merifoods
Sub Sectors
Meri Acres Farm
Meridell Castle
Darigan Citadel
Quests
Games
Turmaculus
Turdle Racing
Shapeshifter
Kiss the Mortog
Cheese Roller
Ultimate Bullseye
Gallery
Ad blocker interference detected!
Wikia is a free-to-use site that makes money from advertising. We have a modified experience for viewers using ad blockers

Wikia is not accessible if you've made further modifications. Remove the custom ad blocker rule(s) and the page will load as expected.