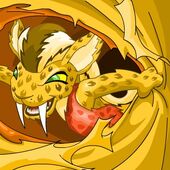 Kyruggi
is a wise
Tyrannian
Kyrii
and the Grand Elder of the Council of Elders. She is the leader of Tyrammet, a small village in the Tyrannian Jungle, not to mention the whole of southern
Tyrannia
. Kyruggi is a brilliant strategist, fierce warrior and fantastic Go! Go! Go! player.
History
The Tyrannian Invasion
Kyruggi and the other elders were available to visit by tourists in the Tyrannian Town Hall since March 27th, 2001 (Year 3). Three days later, Kyruggi was present when Myncha returned from a scouting mission in the mud flats north of the Plateau and reported evil looking creatures slowly headed towards Tyrannia.
Trivia
There is an action figure of Kyruggi called the Kyruggi Action Figure, which will bash anyone who claims Grand Elder isn't the most important position in the Tyrannian council.
Gallery
Ad blocker interference detected!
Wikia is a free-to-use site that makes money from advertising. We have a modified experience for viewers using ad blockers

Wikia is not accessible if you've made further modifications. Remove the custom ad blocker rule(s) and the page will load as expected.