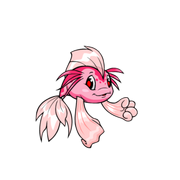 The Koi (coy) is an aquatic neopet from Maraqua. They're limited edition, meaning you can only create one on their species day.
Site description: "These Maraquan natives are very friendly, outgoing, and very inventive. Among their many creations are the Utility Fish, a Petpet and household keeper rolled into one. If you want a fun loving playmate, then the Koi is the one for you!"[1]
Available Colours
Below are all possible colours for Koi. Hit "Expand" to see every one!
Unconverted Pets
3 colours of Koi were exempt from auto-conversion when Neopets updated the pet art.
Famous Ixi
Links
Ad blocker interference detected!
Wikia is a free-to-use site that makes money from advertising. We have a modified experience for viewers using ad blockers

Wikia is not accessible if you've made further modifications. Remove the custom ad blocker rule(s) and the page will load as expected.