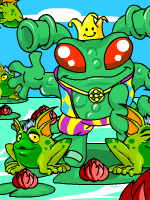 Kiss the Mortog
is a
luck/chance
game. Rated 0.0 difficulty (?)
Pay 50 neopoints, pick the one to kiss between two Mortogs. It might be a prince or princess, or it might just EXPLODE!... eww! ick!
Kiss the Mortog is part of Meridell.
External links
Ad blocker interference detected!
Wikia is a free-to-use site that makes money from advertising. We have a modified experience for viewers using ad blockers

Wikia is not accessible if you've made further modifications. Remove the custom ad blocker rule(s) and the page will load as expected.