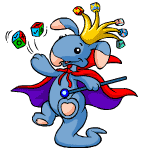 King Roo is a Blue Blumaroo who rules Roo Island.
Games
King Roo brings you this simple die game which is pure chance.
If you win the jackpot in Dice-A-Roo you will receive the Dice-A-Roo Avatar. You can play here.
In this Neopian version of Sudoku you must impress King Roo so he hires you as his new treasurer. This numerical puzzle is fairly easy once you understand it.
You can play here.
If you land on the Question tile in Key Quest you may be lucky enough to get King Roos character card. If you do, all players roll a 12-sided die rather than a 6 sided one (meaning you can move up to 12 spaces in one turn!) You can play Key Quest here.
King Roo owns Dice-A-Roo Industries PLC which you can buy stocks in at the Stock Market.
"Following the success of Dice-a-roo, the game that took Neopia by storm DROO cant seem to do any wrong. CEO and Chairman King Roo aims to continue the success of Dice-a-roo with a whole string of interactive games due to be launched in the month of Storing."
You can buy stocks here.
Items
Day in the life of King Roo
King Roo
King Roo Painting
King Roo Statue
King Roo Throne
King Roo Dice
King Roos Nemesis
References
Neopedia's article on King Roo (It's article number 2!)
Ad blocker interference detected!
Wikia is a free-to-use site that makes money from advertising. We have a modified experience for viewers using ad blockers

Wikia is not accessible if you've made further modifications. Remove the custom ad blocker rule(s) and the page will load as expected.