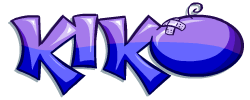 The Kiko (Kee-koh) is a round, floating neopet with a bandage on their head and a single hair. They don't have any legs; just two arms. They're limited edition, meaning you can only create one on their species day.
Site description: "The amphibious Kiko is just as happy on land as it is in water. They dislike very dry places and need to be near water when young."[1]
Available Colours
Below are all possible colours for Kikos. Hit "Expand" to see every one!
Unconverted Pets
2 colours of Kiko were exempt from auto-conversion when Neopets updated the pet art.
Famous Kikos
Links