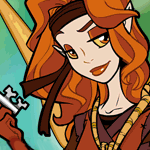 Key Quest is mainly a board game. You play with two to four players, and you have to collect two to five differently coloured keys on the board before being the first to reach the Quest Door. In between you get to play some Mini-Games, collect Power-Ups to aid you in your quest for the keys, and a few other things. At the end everyone is awarded with the NP they've collected while playing, and also a reward key which you can open the vault with and receive some additional prizes.
There are different types of boards that are decorated differently. Sweet 1 is the most popular to play on and is set to default when you create a new game.
Ad blocker interference detected!
Wikia is a free-to-use site that makes money from advertising. We have a modified experience for viewers using ad blockers

Wikia is not accessible if you've made further modifications. Remove the custom ad blocker rule(s) and the page will load as expected.