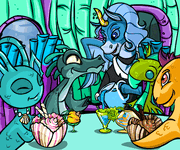 Kelp
is a restaurant that sells highly priced meals. It is frequently very busy, making entering the restaurant difficult. Clients are greeted at the door by the owner, a Maraquan
Scorchio
, and served their food by the Maraquan
Uni
waitress. Kelp opened its doors on April 21, 2005.
Menu
The following items are on the Kelp menu along with their price in Neopoints:
Appetisers

Maraquan Cream Broth (13,300)
Kelp Gazpacho (15,000)
Ocean Delight Salad (14,700)
Mixed Green Salad (13,400)
Fresh Oysters (16,300)
Angel Hair Salad (13,000)
Succulent Cheese Dip (14,300)
Tropical Fruit Bowl (13,000)
Pate a la Kelp (15,800)

Main Courses

Filet of Beef (33,000)
Spicy Radish Salad (28,400)
Stramberry Sausages (31,200)
Ocean Platter (33,000)
Fish Special (32,500)
Braised Turkey Cutlet (29,000)
Whole Roast Pheasant (32,400)
Luxurious Vegetarian Star Pie (29,100)

Dessert

Kelp's Signature Ice Creame (12,100)
Honeyed Horn of Plenty (12,000)
Peachpa and Stramberry Shell (12,200)
Coral Cake (12,300)
Octopi Souffle (12,500)
Triple Chocolate Shell (12,400)

Cocktails

Aged Tchea Juice (8,000)
Funnydew Melon Delight (9,000)
Lemwart Fizz (7,000)
Phear Juice Tonic (8,000)
Twirly Fruit Blend (9,000)
Thornberry Brew (7,000)
Cornupepper Lemonade (9,000)
Seaweed Surprise (9,000)
Foozette Juice (9,000)
Rambus Blend (9,000)
Avatar
There is an avatar available for this restaurant. To get it, you must have eaten at Kelp and been offered to take some leftovers home, which is not always offered. Try bloating your Neopet, then going to Kelp.
Ad blocker interference detected!
Wikia is a free-to-use site that makes money from advertising. We have a modified experience for viewers using ad blockers

Wikia is not accessible if you've made further modifications. Remove the custom ad blocker rule(s) and the page will load as expected.