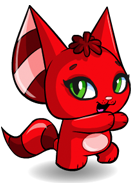 Kassegat are one of the Petpets that are available for adoption in Petpet Park.
Site Description
" Kassegats are very intelligent and clever. Originating from lush jungle areas, they like to spend most of their time relaxing and eating different kinds of jungle fruit. Be careful, though! Kassegats are explorative Petpets, agile and adept at climbing, so if you don't want them to get into something, better keep it locked away tight! "
Ad blocker interference detected!
Wikia is a free-to-use site that makes money from advertising. We have a modified experience for viewers using ad blockers

Wikia is not accessible if you've made further modifications. Remove the custom ad blocker rule(s) and the page will load as expected.